UNSTUFFED & STUFFABLE JUNGLE SAFARI WILDLIFE ANIMALS, TEDDY BEAR PLUSH, STUFFED ANIMAL KITS, BEAR CLOTHES, CLOTHING & ACCESSORIES FOR 14" 15" 16" 17" STUFFED ANIMAL, BUILD, STUFF, MAKE & CREATE A BEAR AND MAKE YOUR OWN STUFFED ANIMALS PARTY SUPPLIES, TEDDY BEAR PARTY, PARTIES AND PARTY KITS AT HOME
CLICK THE STOREFRONT TO SHOP NOW!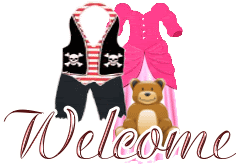 Click here to shop online now
Let's Play Dress-Up specializes in Dress-Up for Boys, Girls and their stuffed animal friends! Shop for unique Children's Themed Costumes & Accessories, Make your Own Stuffable Animal Kits, and Teddy Bear Clothing & Accessories for 14"-17" stuffed animals. We also offer a variety of Parties to Go - Party Packages & Favors for Princess, Knight, Cowboy, Diva, Spa, Pirate, Luau, Fairy, Fireman, Super Hero themes and more. Partying at home just got easier!
ANIMALAND MAKE YOUR OWN STUFFED ANIMAL KITS
A Stuff, Create, Build and Make A Bear and your Own Stuffed Animal, Teddy Bear and Animal Kits
Stuffed Animal Kits - $18 each (Includes unstuffed animal of your choice, wishing star, stuffing fill, & birth certificate).
| | |
| --- | --- |
| | Animal and Bear Clothing Essentials for 14-17" stuffed animals |
| Accessories: Gift Box, Sound Box, Back Packs, Footwear, Hats and More! | Buy by the Box and Save $. Great for Bulk Orders, Groups, Schools & Summer Camps & Fundraisers |
Click here to view ANIMAL KIT BROCHURE PDF
Let's Play Dress-Up Animaland Bear Makery is your online source for Make Your Own Stuffed Animal Kits, Unstuffed Plush, Teddy Bear and Animal Clothing, Outfits and Accessories for 14"-17" Stuffed Animals. One stop shopping for everything needed to host your own stuff, make, build and create a stuffed animal teddy bear party at home. Each Animal Kit includes an unstuffed plush animal skin of your choice, star, bag of fluff and birth certificate. No sewing involved, just choose your animal, stuff, wish, name, dress and accessorize.
Scroll down to view all animals including barnyard & farm animals, jungle, safari and wildlife animals, dogs, cats, puppies, kitties, fantasy animals like dinosaurs, unicorns, dragons, sealife animals, horse, monkey, lion, tiger, bear, rabbit, bunny, turtle, duck, cow, pig, dolphin, shark, toucan, eagle, parrot, flamingo, frog, elephant, fox, raccoon, beaver, poodle, beagle, basset hound, wolf, dragon, rhino, panda, manatee, otter and more. All stuffable animals you can make at home using our Animaland Animal and Teddy Bear Kits and Bear and Animal Clothes, Clothing and Accessories for 14" to 17" teddy bears and stuffed animals.
Stuffable Animal and Bear Kits - Make your own Stuffed Animal at home - Teddy Bear, Kangaroo, Flamingo, Frog, Fox, Lion, Penguin, Shark, Dolphin, Otter, Monkey, Raccoon, Dog, Puppy, Cat, Kitty, Horse, Barnyard, Safari, Jungle, Tiger, and more! All stuffed animal kits include unstuffed animal, fill, star and birth certificate.
ALL UNSTUFFED ANIMAL AND TEDDY BEAR KITS FOR BUILD STUFF MAKE CREATE A BEAR PARTIES AT HOME!
All animals are between 14 inches and 17 inches in length
Click here for printable ANIMAL KIT BROCHURE PDF
CLICK EACH ANIMAL AND LET'S BUILD STUFF MAKE & CREATE A BEAR PARTY AT HOME!
Delivery time is 3-5 business days to most areas. Allow 1-2 business days for order processing.